HELLO EVERYONE! First off, I'd like to apologize for not posting for over *gasp* a month. (!!!) If you want to keep updated with me my instagram and twitter are both @haileysbooks . I update every day on there!
Secondly, if you live in the northern hemisphere, FALL IS UPON US! Which means chunky sweaters, hot tea, curling up with a great book, and of course, HALLOWEEN!
Now if you are like me and don't go trick-or-treating (too old) or go to any Halloween parities, (I'm sure my invites get lost in the mail...) Halloween can be an uneventful night consisting of handing out treats to kids and stuffing your face with candy.(I'm not the only one...right?)
So instead of just handing out treats to little kids and wondering how invites get lost in the mail, dive into a creepy book, it'll keep you biting your nails the whole night! (And reading is so much more fun then going to some crazy party, amIright?)
So what are you waiting for? Grab some candy corn and check out these creepy books!
(PS All the titles are linked to a direct buying link to Amazon!)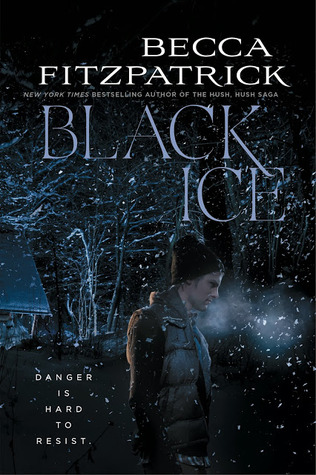 Black Ice
by Becca Fitzpatrick (Currently reading this right now!)
Danger is hard to resist in this sexy thriller from Becca Fitzpatrick, the
New York Times
bestselling author of the Hush, Hush saga.
Britt Pheiffer has trained to backpack the Teton Range, but she isn't prepared when her ex-boyfriend, who still haunts her every thought, wants to join her. Before Britt can explore her feelings for Calvin, an unexpected blizzard forces her to seek shelter in a remote cabin, accepting the hospitality of its two very handsome occupants—but these men are fugitives, and they take her hostage.
Britt is forced to guide the men off the mountain, and knows she must stay alive long enough for Calvin to find her. The task is made even more complicated when Britt finds chilling evidence of a series of murders that have taken place there…and in uncovering this, she may become the killer's next target.
But nothing is as it seems, and everyone is keeping secrets, including Mason, one of her kidnappers. His kindness is confusing Britt. Is he an enemy? Or an ally?
Black Ice
is
New York Times
bestselling author Becca Fitzpatrick's riveting romantic thriller set against the treacherous backdrop of the mountains of Wyoming. Falling in love should never be this dangerous…
The Unbecoming of Mara Dyer
by Michelle Hodkin
Mara Dyer
doesn't
think life can get any stranger than waking up in a hospital with no memory of how she got there.
It can.
She believes there must be more to the accident she can't remember that killed her friends and left her mysteriously unharmed.
There is.
She
doesn't
believe that after everything she's been through, she can fall in love.
She's wrong.
After Mara survives the traumatizing accident at the old asylum, it makes sense that she has issues. She lost her best friend, her boyfriend, and her boyfriend's sister, and as if that weren't enough to cope with, her family moves to a new state in order to give her a fresh start. But that fresh start is quickly filled with hallucinations—or are they premonitions?—and then corpses, and the boundary between reality and nightmare is wavering. At school, there's Noah, a devastatingly handsome charmer who seems determined to help Mara piece together what's real, what's imagined—and what's very, very dangerous.
This fast-paced psychological—or is it paranormal?—thriller will leave you breathless for its sequel,
The Evolution of Mara Dyer
.
(Speaking of which....)
The Evolution of Mara Dyer
by Michelle Hodkin
(You can marathon these books, guys, THEY ARE AMAZING)
Mara Dyer once believed she could run from her past.
She can't.
She used to think her problems were all in her head.
They aren't.
She couldn't imagine that after everything she's been through, the boy she loves would still be keeping secrets.
She's wrong.
In this gripping sequel to
The Unbecoming of Mara Dyer
, the truth evolves and choices prove deadly. What will become of Mara Dyer next?
The Lying Game
by Sara Shepard
I had a life anyone would kill for. Then someone did.
I may not remember much, but I know I led a charmed life. Even in death I'm getting something no one else does: an encore performance, thanks to Emma, the long-lost twin sister I never got to meet. Now, in order to figure out what happened to me, Emma needs to become me. But can she laugh at inside jokes with my best friends? Convince my boyfriend she's the girl he fell in love with? Hug my parents good night like she's their daughter? And can she keep up the charade even after she realizes my murderer is watching her every move?
Let the lying game begin.
Everyone has something to hide—especially high school juniors Spencer, Aria, Emily, and Hanna.
Spencer covets her sister's boyfriend. Aria's fantasizing about her English teacher. Emily's crushing on the new girl at school. And Hanna uses some ugly tricks to stay beautiful.
But they've all kept an even bigger secret since their friend Alison vanished.
How do I know? Because I know everything about the bad girls they were and the naughty girls they are now. And guess what? I'm telling.
An abandoned orphanage.


A strange collection of very curious photographs.


It all waits to be discovered in
Miss Peregrine's Home for Peculiar Children
, an unforgettable novel that mixes fiction and photography in a thrilling reading experience. As our story opens, a horrific family tragedy sets sixteen-year-old Jacob journeying to a remote island off the coast of Wales, where he discovers the crumbling ruins of Miss Peregrine's Home for Peculiar Children. As Jacob explores its abandoned bedrooms and hallways, it becomes clear that the children were more than just peculiar. They may have been dangerous. They may have been quarantined on a deserted island for good reason. And somehow—impossible though it seems—they may still be alive. 

A spine-tingling fantasy illustrated with haunting vintage photography,
Miss Peregrine's Home for Peculiar Children
will delight adults, teens, and anyone who relishes an adventure in the shadows.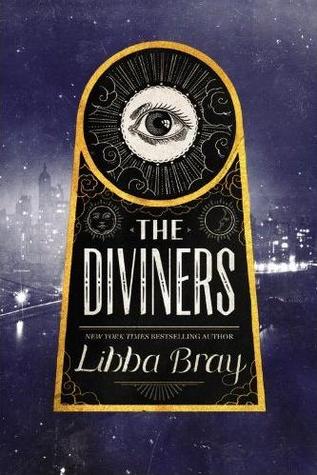 The Diviners by Libba Bray
Do you believe there are ghosts and demons and Diviners among us?
Evie O'Neill has been exiled from her boring old hometown and shipped off to the bustling streets of New York City--and she is pos-i-tute-ly ecstatic. It's 1926, and New York is filled with speakeasies, Ziegfeld girls, and rakish pickpockets. The only catch is that she has to live with her uncle Will and his unhealthy obsession with the occult.
Evie worries he'll discover her darkest secret: a supernatural power that has only brought her trouble so far. But when the police find a murdered girl branded with a cryptic symbol and Will is called to the scene, Evie realizes her gift could help catch a serial killer.
As Evie jumps headlong into a dance with a murderer, other stories unfurl in the city that never sleeps. And unknown to all, something dark and evil has awakened....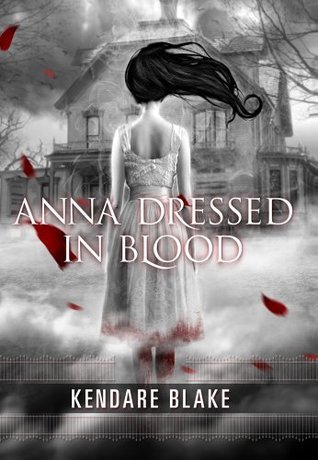 Anna Dressed In Blood by Kendare Blake
Cas Lowood has inherited an unusual vocation: He kills the dead.
So did his father before him, until he was gruesomely murdered by a ghost he sought to kill. Now, armed with his father's mysterious and deadly athame, Cas travels the country with his kitchen-witch mother and their spirit-sniffing cat. They follow legends and local lore, destroy the murderous dead, and keep pesky things like the future and friends at bay.
Searching for a ghost the locals call Anna Dressed in Blood, Cas expects the usual: track, hunt, kill. What he finds instead is a girl entangled in curses and rage, a ghost like he's never faced before. She still wears the dress she wore on the day of her brutal murder in 1958: once white, now stained red and dripping with blood. Since her death, Anna has killed any and every person who has dared to step into the deserted Victorian she used to call home.
Yet she spares Cas's life.
That's all I have for you today! Have a safe and fun Halloween!

-Hailey